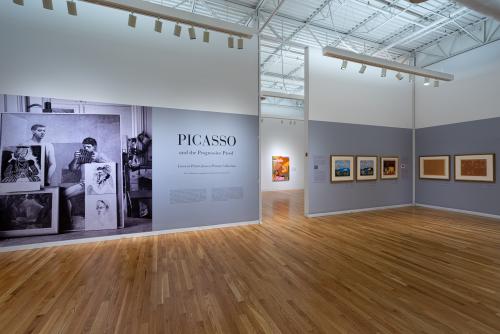 PICASSO: FIFTY YEARSLATER at the Elmhurst Art Museum invites visitors of all ages to engage with Pablo Picasso's work, lasting influence, and legacy on the 50thanniversary of his death – which is being celebrated globally this year. But you don't have to go to Paris or New York to see works by Picasso. The Elmhurst Art Museum is currently the only museum in Chicagoland with a show during this worldwide salute.
With nearly 25 works by Picasso across multiple galleries, the show pays tribute to the famed Modern artist's lasting influence and legacy. 
One of numerous exhibitions taking place across the US and around the globe, Picasso: Fifty Years Later reflects on the artist in three parts:
 The first is an introduction with works by Picasso and his contemporaries featuring loans from the Sally and Ray Allen Collection – local collectors that have been long-time donors to the museum. This gallery includes an introduction to the long career of Picasso, and artists that inspired him during his lifetime;
 The middle gallery is the debut of a nationally traveling exhibit dedicated to the demanding process of Picasso's printmaking from a private collection. After Elmhurst, it will travel to three other museums across the country. The focused show is accompanied by a catalog with new scholarship about Picasso's late print work.
And lastly a presentation of contemporary figurative artists responding to Picasso today.
Programs at the museum this fall complementing the exhibition reflect on both lasting impressions and new interpretations of Picasso, including lectures by speakers from a variety of backgrounds, and art-making activities for families to create their own works inspired by the famed artist. Click to explore these upcoming programs.