Elmhurst Express Trolley
2023 EXPLORE ELMHURST EXPRESS SUMMER TROLLEY!
Experience Elmhurst like never before.
Running on Fridays & Saturdays from noon - midnight,
June 2nd - September 16th.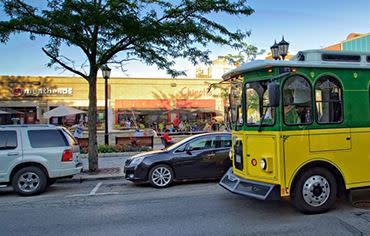 Looking for an adventure this summer? Look no further than the bustling town of Elmhurst, just 16 miles west of Chicago's loop. Elmhurst is a vibrant, tree-lined community with thriving retail shops, fine dining, outstanding theater and art, excellent museums, and engaging events throughout the year. There's always plenty of excitement in Elmhurst. 

The Explore Elmhurst Express Trolley offers visitors and residents a FREE 30-minute ride around the lively City of Elmhurst. Making six stops across the City, this fun and easy trip runs every Friday and Saturday, June 2nd through September 16th from 12 noon to 12 midnight.

Route: No tickets are needed to ride the Explore Elmhurst Express connecting downtown Elmhurst with the Spring Road business District and York and Vallette Business District. Special Explore Elmhurst signs will mark each stop. Parking is conveniently located near each trolley stop.

TROLLEY STOPS:
York and Third
Track the trolley!
Where's the trolley? Don't waste your time thinking about when the trolley will arrive at each stop. Track the trolley here!
Handicapped Accessibility: The Explore Elmhurst Express is handicapped accessible and ADA-compliant.
Strollers & Bikes: Strollers that collapse or fit into the seating area of the trolley are welcome on the trolley. If your stroller will not collapse, please leave it off the trolley. Bikes are not allowed on the trolley. The trolley does not have onboard storage and it is against fire code to place strollers or bikes in the aisle.
Explore Elmhurst Summer Sweepstakes:
While on the trolley, scan the QR code and enter-to-win weekly prizes while riding the trolley. See rules here.
Special Guests on the Trolley!:
Added Bonus! How well do you know Elmhurst? Trolley riders will learn about highlighted areas of the City through a trolley narrative. 
Share Your Photos by tagging #ExploreElmhurst on your RIDE!
FOR THE SAFETY AND COURTESY OF YOURSELF AND OTHERS WHILE RIDING THE EXPLORE ELMHURST EXPRESS TROLLEY, PLEASE UNDERSTAND OUR TROLLEY CODE OF CONDUCT.

 LOST AND FOUND: Think you left something on the trolley? 
The City contracts the trolley from Aries Charter. For information on lost and found items, please call the 24-hour trolley dispatch at (708) 243-6005.